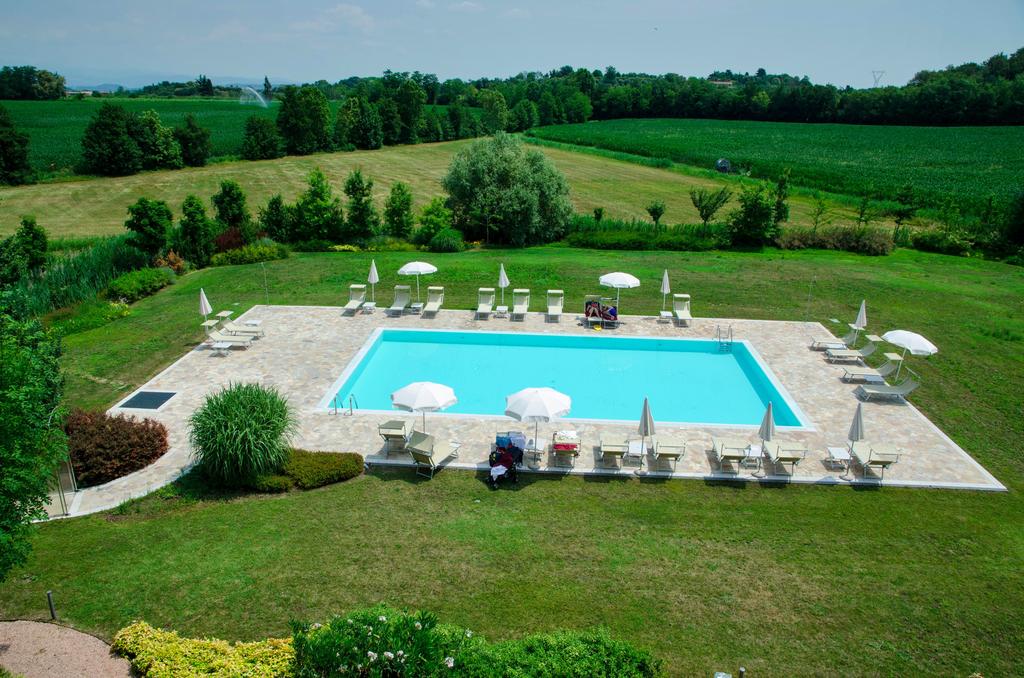 Vitajte v
Hotel Relais Corte Cavalli Ponti sul Mincio
.
In a landscape of great natural suggestion
,
spaces have been created on a human scale
,
included in the harmony of the moraine hills
,
in the refinement of detail and with great use of natural materials
.
A refined setting that allows total immersion in nature
.
Awaken the senses and relaxes the mind
.
The high quality fittings
,
furniture and frescoes characterize individually each of the
20 izby,
from which you can enjoy the eye of the magnificent panoramic view of the moraine hills
. Klimatizácia,
high-speed Internet connection
,
LCD satellite TV
,
mini bar and safe are the facilities that distinguish the category
.
Thanks to the magnificent park with swimming pool fully lit
,
with spacious rooms and the restaurant is able to offer a space suitable for any type of event
.
Nestled in a wine-producing district of great value in the green morainic hills and a step away from Lake Garda
,
the restaurant
"
La Dinastia
"
is born
,
where the culture of the earth
,
the study of tastes and love for the first fruits combine to delight the palate and soul
.
The elegance of the dining room and the atmosphere that breathes on the terrace
,
surrounded by nature in the crisp
,
paint the perfect gift for convivial moments to remember
.
The refinement of raw materials combined with traditional recipes can taste refined dishes of the tradition
,
accompanied by wines selected by national and international wine cellar
.
A careful and rigorous selection of ingredients for processing before seasonal dishes particularly well
.
Aware of the expectations of customers
,
our chefs will serve the best products to create menus to satisfy every need
.
We have hosted presentations in the past
,
automotive
,
fashion shows and gala dinners
,
private and exclusive
.
Corte Cavalli offers a unique location
,
where the guarantees freedom of the expression and image
.
Meetings
,
training
,
incentives
,
find the right union between nature
,
history and technology
,
areas where properly prepared
,
in an atmosphere of incomparable relaxation
,
privacy and style
,
helping to increase and enhance the image of the company
.
Our technical staff will put you at your computers
,
microphones
,
flip charts
,
wi-fi high speed
,
LCD projection images from a PC and a projection screen 240x240
.
Our Meeting Rooms are
:
Barchessa Hall
, z 60 na 100 sedadlá,
Cavalli Hall
, z 20 na 45 sedadlá,
Cavallina Hall
, 8 sedadlá. (
Hotel Relais Corte Cavalli Ponti sul Mincio hotels
).

Hotel Relais Corte Cavalli Stats